Heading to bed on Tuesday night, we knew to expect rain, maybe a little thunder overnight, but we weren't at all expecting the storms that rolled through our neighborhood around 1am. Soon after the rains started, lightening flashed outside like a strobe light gone amok and punishing 70 mph winds whipped through the trees surrounding our home. A few minutes into the storm, we lost power. Surveying the damage the next morning, we learned that several large trees around us had fallen and cars had been damaged, but we had escaped more significant damage. With the loss of a tree comes thoughts of fragility, change, and loss. Trees that grew for hundreds of years are suddenly gone. We may live in an urban environment with street sweepers, street lights, and modern amenities, but we're still subject to the whims of the natural world.
Turning to Facebook for updates after the storm, I was both relieved and saddened to see how our farmers fared in the winds, relieved that Tony, Dela, their family, and livestock were safe, but saddened and worried over the damage to the valuable infrastructure of the farm. If you haven't yet, do read Tony's newsletter describing the storm and its effects, the fragility and balance of farming the land as it deserves to be. As members of this community, let's support our farmers as they work through this set-back. See the newsletter for details about the work day Rhonda is organizing or, if you're not able to visit the farm, reach out with words of encouragement. We're all in this together.
Highlights from last week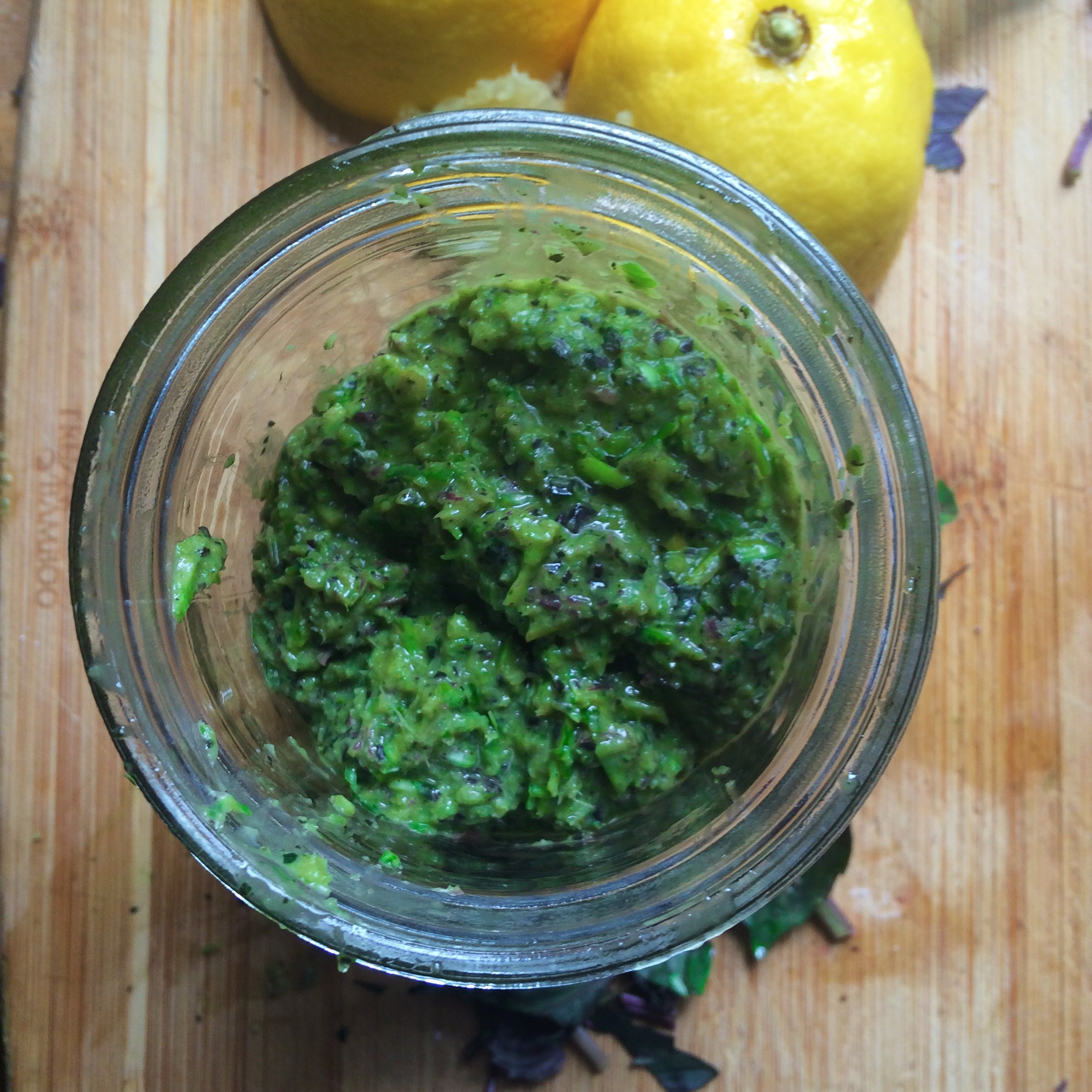 I've again been a little remiss in pausing to take photos of our meals before diving in, but I assure you, we've been eating well this week, as always, thanks to our farmers. The stand-out recipe this week was a savory dinner pie made with a yeasted whole wheat crust, loosely following the format of this (delicious) recipe but trading out almost all the ingredients for things we had on hand. Instead of tomatoes and eggplant, I roasted broccoli and kohlrabi from our share and added chopped kolrabi tops to the mix. For the marinara, we used some leftover tomato sauce we batch cooked this weekend using the remainder of the tomatoes we canned from the farm last summer. For the cheese, leftovers from last week's cacio e pepe pizza with radishes.
Saturday we found ourselves running errands and doing bike repairs until after sunset, so dinner was a simple salad with CSA greens and a lentil salad, gussied up with some hard-boiled eggs and some pantry items including olives and some pickled peppers. On Sunday, we made an enormous batch of radish top soup from all the tops and greens we'd been saving, some radish, some kohlrabi, a little lettuce(!) that froze in our over-packed fridge (it's still good, just not great salad!), and some Chinese cabbage. Basically, anything leftover and green that was in the fridge went into the pot with the potatoes and onions and it turned out quite good! Now we have 12 or so pints put up in the freezer for a quick, nutritious workweek lunch.
With the garlic scapes, I did end up making a fairly neutral pesto by adding last week's basil, some mild grapeseed oil, lemon juice, and salt. I thought about making a more Italian-style pesto, but looking at the Thai basil in my hand, I kept imagining it stirred into rice or spooned into a noodle-y soup with fresh veggies and a light broth, and decided that I would omit the cheese and nuts and swap in a more neutral oil for the olive oil so that I would be more flexible. For a both of lentils, I can stir in this pesto and grate some Parmesan over the top; for an Asian-inspired rice dish or soup, I can add a little ginger or coconut milk to the dish. We also added a garlic scape or two to the potato salad we brought along to a friend's barbecue on the 4th. Working around this recipe, we omitted things we didn't have on hand (celery, onion, garlic chives) and added things we did have (garlic scapes, extra lemon juice).
Summer squash (zucchini, patty pan)
Unable to forget about last week's cacio e pepe pizza with radishes, I've been scheming up ways to work other veggies into this recipe. My best and most timely idea yet—why not sliced, roasted or grilled summer squash? I haven't tried this yet, but I did stash a batch of the dough in the freezer, so we may just try it this week.
Another recipe that's caught my eye this week is this green yogurt curry with summer squash, which author describes as a "[close] cousin [of] Thai green coconut curry, but combined with a cold cucumber soup." It can be served cold, which is particularly appealing given the rising temperature and humidity.
Cucumbers
With these few cucumbers of the season, I'll be capitalizing on the refreshing, crispness with a light summer meal like this cucumber salad with Asian flavors or take-out style sesame noodles with cucumber. Another approach would be to add their watery crunch to a cool, creamy dish like this cucumber and radish salad with yogurt and cumin or an avocado cucumber salad.
Radishes
Clicking through recipes for radishes, this one for brown butter and tahini dipped radishes stood out as particularly creative side or appetizer. If ease and speed are more your thing than fancy presentation, I reckon you could also quarter your radishes and toss them in the remaining ingredients.
So many recipes for raw radishes are salads and slaws because radishes work so well in that form. They're crunchy, a little juicy, and a little spicy. Their refreshing bite really does perk up everything else around it. Asian flavor combinations offer light, refreshing salads like this Thai coleslaw or this yum yai salad. For a cool, refreshing side to your favorite grilled entree, maybe sub two kinds of radishes for the turnips in this crunchy celery, radish, and turnip salad-slaw mentioned in this article on slaws.
Peas
And, just in case you're starting to wonder what else you could possibly do with peas (not me!), what about this spring ramen bowl with snap peas and asparagus? Instead of buying expensive, non-local asparagus, I'd julienne something from this week's share. Some squash, maybe, or broccoli, or even some of the radishes.